Dayana Quispe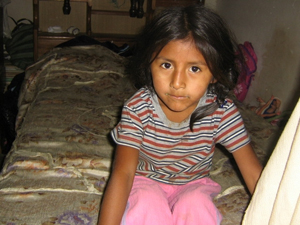 A 5 year old girl, Dayana has had a congenital heart defect affecting her life since birth. She is the 3rd of three sisters. Her father, Silverio Quispe, is a 43 year old who works as a driver. He lives with Juana Huanca, a 32 year old who sells furniture, washes clothes by hand for a fee and cleans houses. Her other sisters are 10 and 8 years old. Dayana was successfully operated by Dr. Benjo Gareca and his team in Cochabamba. This surgery was made possible through the financial support of Dharma Trading Co.
Between them, they make about $120 a month. The rent one room in which they all live and cook. It is made of brick with cement floors. They have been attempting for some time to have Dayana operated, but their meager resources have made it impossible. When Juana, her mother, was interviewed she said: "Yo no se que mas puedo hacer para salvar la vida de mi hijita. Su papa no se preocupa porque solo me dice no hay plata que se puede hacer, por eso discutimos mucho. Yo voy a caminar buscando ayuda y prestándome algún dinero, por favor ayúdenme Dios les va a pagar. Yo asisto a una iglesia cristiana y estamos orando para poder conseguir que mi hijita se opere".
"I do not know what else I can do to save my little daughters life. Her father has given up on helping her because he tells me there is not enough money; that is why we argue so much. I am going to keep waling, looking for help and borrow money, please help us - God will repay you. We go to a Christian church and we are praying that my daughter might be operated."