Sarely Hurtado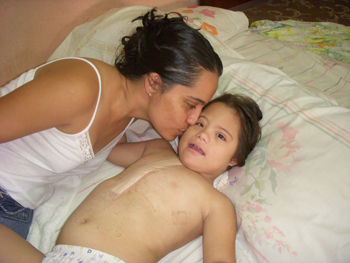 Sarely Hurtado, age 6, is the only child of Luis Alberto Hurtado and Maria Eugenia Ribera. The family lives with Sarely's maternal grandmother to reduce their living expenses and so that she can help with Sarely's care. Maria Eugenia is a teacher and Luis Alberto does odd jobs to produce a joint income between 3,000 and 4,000 Bs per month (US $430 – 570), a large proportion of which is dedicated to Sarely's education and health care.
Her parents and doctors discovered upon her birth that Sarely has Down Syndrome, and her parents go to great lengths to give her the best possible life. Given the limited public education options for children like her, they enrolled Sarely in a private special education school. They have also had to address multiple medical complications. In January 2012, Sarely was evaluated by the vascular surgery specialist, Dr. Arturo Barrientos, a partner of Solidarity Bridge based in Santa Cruz. Dr. Barrientos recommended urgent heart surgery to repair an interventricular opening and install a Gorett patch.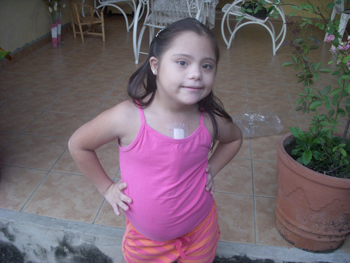 Sarely's parents are deeply devoted to their daughter, and have also been blessed by support from friends and family needed to raise this special child. Luis Alberto represented the family in the interview with the social worker while his wife was working. The following is a quote from that interview: "Sarely is our great treasure … everyone loves her and helps us out a lot, thanks to the fact that she is friendly and greets them. We try to give her all the best, although she often doesn't understand it that way. We try to behave as if nothing unusual is happening." Sarely responded remarkably well from her surgery performed in Clínica Incor, and within days was home with her parents and grandmother. This surgery was made possible through the financial support of Dharma Trading Co.