David Cerruto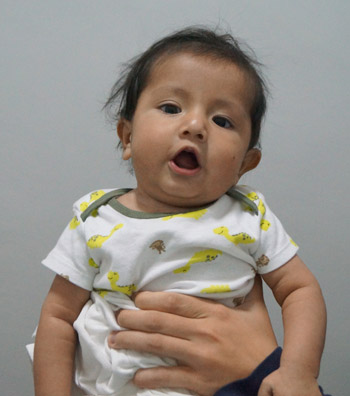 David's parents, Maria Elena and Oscar, abandoned him when he was three months old. Both parents are addicts and live on the streets of Cochabamba with their other children. David's elderly grandmother loves him dearly but cannot care for him. So David was handed over to the Hogar de Amor ("Home of Love") orphanage, run by Sister Maria Medina and supported by a group of evangelical churches. The current whereabouts of Maria Elena and Oscar and their other children are unknown.
But David is not alone. By the grace of God, a safety net, knit by loving hands and hearts stretching across two continents, caught baby David, and hopefully set him on a path toward a much brighter future.
Soon after David arrived at the orphanage, he was rushed to the emergency room with symptoms of high fever, respiratory distress, and dehydration. Tests revealed David suffered a significant congenital heart defect, requiring urgent corrective surgery. The orphanage was referred to PuenteSol, the local office of Solidarity Bridge. As Sister Medina explained to PuenteSol's social worker, "We have so many abandoned children with diverse health problems, and we cannot cover costs when they are high like the surgery David needs."
Over the next few months, his caregivers struggled to improve David's weight and stabilize him to prepare for surgery. This was especially difficult considering that he lives surrounded by other kids and exposed to all the colds and other common ailments of childhood. The orphanage realized David needed to be isolated and given 24/7 one-on-one care. That is where a young nurse from Texas, Elizabeth Mize, came into David's life. Elizabeth had been finishing a stint as a volunteer at a Cochabamba hospital. She was invited to visit David's orphanage, where she found him in a corner crib. Elizabeth would end up returning to Bolivia a short time later to take over David's care, shepherding him all the way through his surgery and post-op recovery. Elizabeth kept a beautiful blog of her experience, with numerous photos that trace David's journey to health: http://ruinmylifetheplansihavemade.blogspot.com . Elizabeth's story alongside David begins in her entry dated March 15th, and her May 21st post recalls her chance encounter with a Solidarity Bridge mission team working in the same hospital two days before David's surgery.
David's surgery was a success, and he is now back at Hogar de Amor. Once he is given a final clean bill of health, it is hoped David will be cleared for adoption.
In addition to all those mentioned, Dharma Trading Co. was another fundamental knitter of David's safety net – THANK YOU to Dharma and its staff and clients for helping to save the precious life of this beautiful boy!