Christian Flores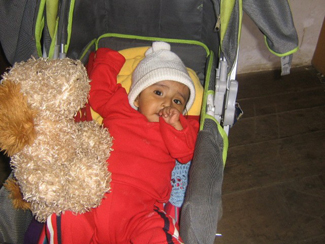 Christian is a 9 month old baby boy that was born with two major problems. He not only has a congenital heart problem, but also a malformed anus, requiring him to have a colonostomy. They will be able to repair his anus now that the heart surgery has been successfully done. This surgery was made possible through the financial support of Dharma Trading Company.
Christian's parents are young. Teofilo, his father, is a 24 year old who has a small auto repair shop. He makes $300 a month, but has a loan that requires a repayment of half of his income. His mother, Elena is 24 and is a homemaker. They both come from La Paz and do not have family in Cochabamba.
They rent 2 rooms in a dilapidated house. They live in one of them and the other is the auto repair shop. When interviewed before the surgery, the mother had this to say: "Si de nosotros hubiera dependido y tuviéramos el dinero ya nuestro hijito estuviera bien, pero es muy difícil juntar el monto que cuesta esta cirugía. Esto no nos deja dormir porque vemos que nuestro pequeño cada día que pasa corre mayor riesg., Hemos pedido tanto a Dios que nos ayude, por favor dennos una mano. Dios les va a compensar."
"If it had depended on us and we had had the Money, our little son would be well. It is very difficult to obtain the money for this surgery. This keeps us from sleeping at night because every day that passes we see that our little one is in more danger. We have asked God to help us, please give us a hand. God will repay you."