Carol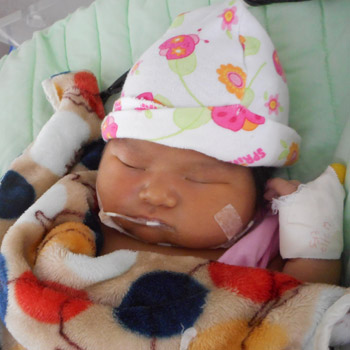 Dionicio and Julieta have been married for 18 years. Their oldest daughter, Karen, is 16. In the years after Karen's birth, Julieta suffered 4 miscarriages and the family also mourned the loss of an 18-month-old son with Down syndrome following surgery to correct his severe heart defects. Then, a little over a year ago, the family was overjoyed to welcome a healthy baby boy, Ivan. Everyone was surprised when Julieta became pregnant again just a few months after Ivan's arrival, but her closely-monitored pregnancy appeared uneventful.
In a heartbreaking blow to the family, their new baby girl was born with an exceptionally rare congenital malformation known as Ebstein's anomaly, affecting the heart's tricuspid valve. Ebstein's can sometimes be managed with medication, but in certain scenarios the effects on lung function make surgical treatment necessary. In baby Carol's case, her doctors recommended urgent placement of a Blalock Taussig shunt between her heart and lungs in order to avoid permanent lung damage due to improper blood flow.
At just 12 days old, on June 10, 2017, Carol underwent surgery. After all they have been through, in particular after having lost a toddler following heart surgery, Julieta and Dionicio were understandably terrified. But they were also immensely relieved to count this time with the support of top medical specialists, and with the financial assistance to make the surgery possible. While Dionicio proudly earns a decent income of almost U$900 a month as a skilled carpenter, the cost of such a specialized emergency surgery remained far beyond the family's means.
The family also expressed their gratitude for the moral and spiritual support and accompaniment provided by the social workers of the Santa Cruz office of Puente de Solidaridad, which manages the local activities of the Solidarity Bridge Heart Program: We are grateful for the support of the doctors and of all of you who are doing everything possible so that our baby can get the surgery.