Nicol Belen Salas Alave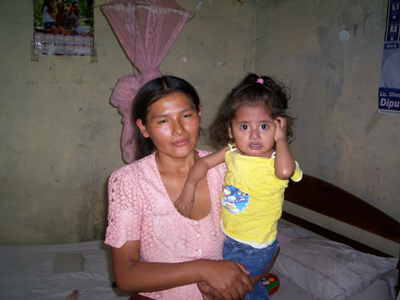 Nicol Belen Salas Alave is one and a half years old and was born with Tetralogy of Fallot, a congenital heart defect. Nicol's father, Gregorio, 23, has a seventh grade education and her mother, Robertina, 27, has a fifth grade education. Nicol's parents met and fell in love while both working as domestics at a wealthy Bolivian's home. Gregorio is now a mechanic and Robertina stays home to care for Nicol.
Nicol was born tiny and had difficulty breathing. The doctors said it was just because she was premature and would grow out of it. Yet Nicol continued to have troubles and was listless and small. Her parents grew worried and finally saved up enough money to take her to a specialist. The specialist discovered Nicol's bad heart and told Gregorio and Robertina that she would need open heart surgery to live.
Robertina told us, "We found out about her illness and that our little one would not get better... (tears)... we know we can't give her the surgery she needs. We are desperate because my husband and I aren't in a position to cover a huge intervention like this. The only one who can work is my husband and he is only a mechanic earning $44 a week. He only earns enough for us to live day by day."
"Through your generosity, Dharma, you saved Nicol's life. She received her open heart surgery on July 26th, 2010. Thank you!"
This surgery was made possible through the financial support of Dharma Trading Co.