Alejandro Cuellar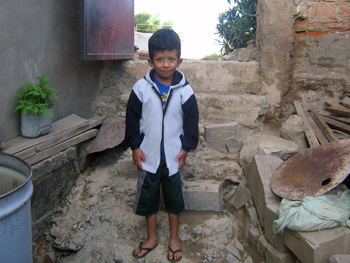 Alejandro was born with congenital heart disease. There is a hole between the auricular chambers of his heart. He was left by his mother who went to Spain to find employment and his father works in the Chapare, the tropical area of the State of Cochabamba. The father still keeps in touch and provides some financial help to the child who lives with an aunt.
Alejandro is small for being 7 years old and tires very quickly. Fortunately, he has a good living situation where he is treated well by his aunt and has friends and cousins his own age with which to play. His mother sends 350 Bolivianos a month and his father contributes 200. Together these amount to about $80 that pay for his food, lodging and educational expenses, plus his medical care.
Alejandro's aunt in the interview said: "Como los padres no están con Alejandro, ellos no sufren cada día al ver que el se pone mal y no puede correr ni jugar como mis hijos, ellos lo quieren y lo cuidan como a su hermanito, yo les he dicho a sus padres que tienen que hacer cualquier esfuerzo y se tiene que operar mi sobrino, yo les pido nos ayuden para que el mejore."
"Since his parents are not with Alejandro, they do not suffer each day like I do when I see him feel ill. He cannot run or play with my children who love him and take care of him like he was a brother. I have told his parents that they should do all in their power to help him. My nephew needs to have an operation. And so I ask you to help him so that he might get well."