Theza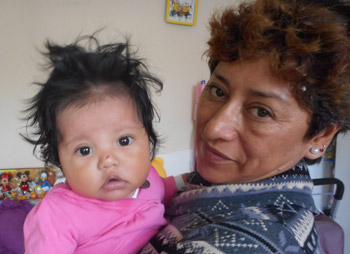 At the tender age of six months, Theza has already lived an incredible journey. A female police officer at the prison in Santa Cruz took on the heroic task of legally adopting this baby girl when she was about to be abandoned by a young mother unable to provide her care. A few weeks later, doctors determined that the baby needed surgery to close a hole in her heart, more technically known as a ventricular septal defect. On April 4, pediatric heart surgeons at the Children's Hospital in Santa Cruz placed a bovine pericardium patch to complete the repair while a heart-lung bypass machine took over pumping blood through the tiny body. On April 15, Theza was strong enough to go home.
The officer – now Theza's mother -- shared the following testimony with the social workers who connected her to support through the Solidarity Bridge Children's Heart Surgery Program:
In the beginning I was afraid to take on responsibility for the baby since I'm alone and I have my job. But when I saw her so alone and vulnerable, it broke my heart.
I was very worried when they told me Theza needed heart surgery. She because is my baby now and I'm worried something bad will happen to her. I am very grateful for the support you are giving to us, since my job doesn't pay enough to cover the surgery.
May God bless you.