Isabel Quiroz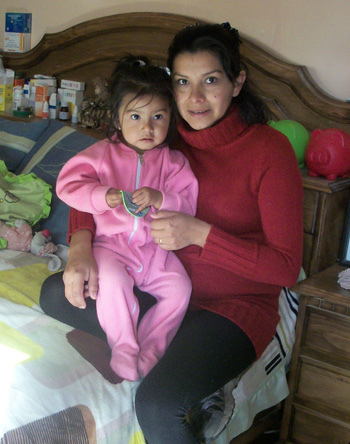 Daniel and Wilma, both 30, live with Daniel's mother in the community of Quillacollo, just outside of Cochabamba, Bolivia. Daniel works as a mechanic, earning roughly US $260 a month. Their daughter Isabel was born in September 2013 with a heart defect involving the superior vena cava, which is the short wide vein that carries deoxygentated blood from the upper half of her body to her heart's right atrium. If not corrected, the condition would further debilitate Isabel's heart and lungs, and could eventually kill her.
Wilma shared her story with the social workers at Puente de Solidaridad:
We are very distressed since learning of my tiny daughter's problem. We have been asking around and consulting how to fix it. Unfortunately it can only be repaired with a surgery that is very expensive for us; I don't know how many years it would take us to save up the money. So we asked the doctor where we could find help. This office is a blessing for us, giving us hope that my girl can get her surgery.
When the family came to the office of Puente de Solidaridad, Wilma was six months pregnant with their second child. She was especially anxious to get help for Isabel before the new baby arrived. Her wish was granted when Isabel underwent surgery on August 7 at the Belga Hospital in Cochabamba, in the skilled care of Dr. Carlos Brockman. She was sent home on August 18, with a couple months to recover before becoming a big sister.
The family is relieved and very grateful for the help they received. They are now able to relish their excitement for the new baby, hoping above all else that he or she is healthy.