Kevin Marca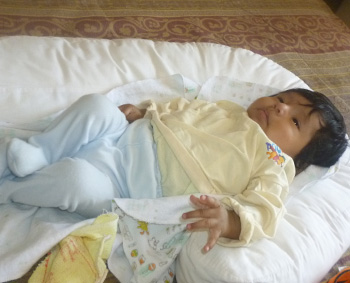 Jenny Quispe and her husband, Amilcar Marca, lived a stable life with decent-paying jobs in La Paz, Bolivia. In December 2012, they welcomed a beautiful son, Kevin, to complete their family. However, immediately after his birth, they discovered a soft palate defect that made it very difficult for Kevin to eat. While searching for treatment for his palate malformation, the family received the devastating news that little Kevin also had a congenital heart defect. Even before he was thoroughly diagnosed, the family was told that the high altitude in the city of La Paz was only aggravating Kevin's breathing and blood flow difficulties. They immediately packed their bags and left La Paz to move in with Jenny's mother in Cochabamba, which lies at an altitude about 5,000 feet below La Paz. The house is overcrowded with multiple family members, but the family insists that their discomfort and any other hardship is of little importance while they focus on helping their baby. The couple was able to find new jobs in Cochabamba, she as a prison guard and he as a security guard at the local mayor's office. They both took pay cuts, but at least they are able to cover their basic meal and transportation costs.
Jenny and Amilcar took Kevin to Dr. Gabriel Echazú at the Pediatric Hospital that forms part of the Viedma public hospital complex in Cochabamba. Kevin was diagnosed with acyanotic congenital cardiopathy. An echocardiogram test revealed a complete AV septum defect, moderate insufficiency of the right AV valve and slight insufficiency of the left ventricular valve, with signs of important pulmonary hyperflow.
Even with the parents earning a combined income of $3,700 Bolivianos ($550 dollars), the cost of the complex open heart surgery needed to save Kevin's life was far beyond their reach. They were referred to Solidarity Bridge's local partner office in Cochabamba, PuenteSol, for assistance. During the home visit by the PuenteSol social worker, Kevin's parents expressed the following:
"We are very saddened by what is happening with our son. At one point we thought God was punishing us for something. We can't explain why he was born with these problems. First we found out about his palate and then his heart. We are doing everything within our reach to save his life. Please help us so that our little angel can survive. Now we know and we are sure that God will not abandon us. We put little Kevin's life in his hands."
Kevin received his surgery on May 21, 2013 at the Belga Clinic in Cochabamba. This surgery was made possible through the financial support of Dharma Trading Company. At five months of age, he is one of the youngest patients to ever be treated through Solidarity Bridge's children's open heart surgery program. He is now home with his family. Once cleared by the cardiac specialists, the family hopes to be able to correct Kevin's soft palate defect. They are most grateful to all those who, guided by God's hands, made Kevin's surgery possible.