Brenda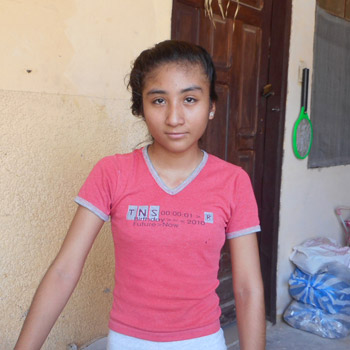 Brenda is the oldest of four sisters. She is a beautiful girl of 14 years old. Two years ago she dismissed "strong heart palpitations" and lightheadedness; she thought they were normal. Early in 2017, Brenda fell very ill, to the point that her parents, Edmundo and Tatiana, took her to an emergency hospital. After one day, Brenda had to leave the hospital because her parents were not able to pay the bill or cover the cost of prescribed treatment. She continued feeling weak and ill, with episodes of occasional rapid heart rate. This year, Brenda had to stop taking her physical education class at school because she was having frequent tachycardia.
Edmundo and Tatiana took their daughter to Fundacor, Santa Cruz's public hospital, for further diagnosis and treatment. There, they referred Brenda to Incor Hospital where she was diagnosed with paroxysmal supraventricular tachycardia (PSVT). PSVT occurs when electrical impulses in the heart cause an abnormally rapid heart rate. Brenda needed ablation surgery.
Brenda's parents have variable and uncertain income. Edmundo works as a taxi driver in the city of Santa Cruz making about US$350 a month. Tatiana works at home taking care of their four girls and also preparing party supplies, like piñatas and confetti. Their joint monthly income is about US$500, and just that covers the family's basic needs. The whole family lives in Brenda's maternal grandmother house who is happy to be able to help. An uncle also helps the family with US$50 a month that is used to pay for food and medicine. The whole family is accustomed to pooling resources together to make ends meet; yet Brenda's surgery was demanding much more money that they could possibly afford.
Edmundo and Tatiana learned about Puente de Solidaridad, and their Children Heart Program. After an analysis of Brenda's condition and the family's economic condition, Puente confirmed that Brenda was a perfect candidate for their support. Dr. Velarde operated Brenda at Incor on October 5, 2018. She is expected to make a full recovery. Tatiana, Brenda's mother, is very grateful for all the help and support she has received from the Program: Brenda will be able to be well and have a healthy and normal life.