Magaly Rodriguez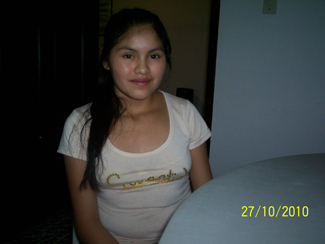 This young teenager, Magali, had no idea, until recently, that she had a grave illness that would lead to her death without an operation that was totally out of reach of her family's finances. The father of this 13 year old, Abraham Rodriguez, works as an agricultural worker making the equivalent of $3.50 a day. Her mother raises domesticated animals on their rented property for the food.
When Magali was young she contracted rheumatic fever which led to damage to her mitral heart valve. Not long ago, she began to feel intense fatigue and was unable to do much. When she finally went to the doctor, they found this serious heart illness. In speaking about that moment, Magali's sister relates:
"In that moment we felt as if there were nothing we could do, except let her die since even if we sold everything we had it would not come close to covering the cost of the operation. When I told my father, it felt as if he was going to die since we did not have the money to pay for the operation."
Thanks to the donation given and the good will of our Bolivian doctors and medical facility, we were able to save Magali's life. She was operated in December of 2010 in Santa Cruz and has recovered well from what is a very big operation. This surgery was made possible through the financial support of Dharma Trading Co.