Sarahi Ramos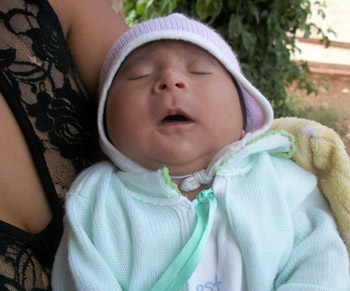 Rogelio and Basilia are a young couple from Cochabamba, Bolivia, who have worked hard to acquire a small plot of land on which they are building their family home. The couple and their two oldest children, Letcy (10) and Roger (8), all pitch in with the construction. They now have a cement floor, electricity, and a bathroom with septic tank. The family lives off of Rogelio's income of around $300 dollars a month as a taxi driver.
In January 2014, Rogelio and Basilia welcomed a baby daughter, who they named Sarahi. The couple soon noted that Sarahi was different than Letcy and Roger at her age. She was unable to nurse without being interrupted by coughing attacks, and she seemed to have trouble catching her breath, even turning blue. A pediatrician at their local clinic detected a heart problem, and the baby was referred to Hospital Univalle for tests. From there, Sarahi was referred to Clínica Belga, where they confirmed she needed urgent surgery as a first step to address dysplasia of her pulmonary valve and perimembranous ventricular septal defect, or VSD, along with a number of other related complications.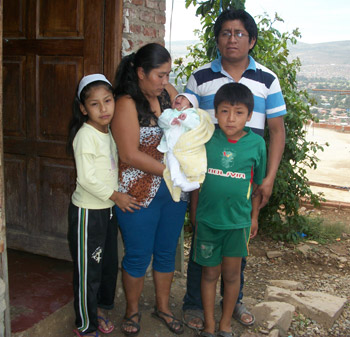 Her mother was overcome with her impotence to help her baby. "Every time my little daughter gets ill, I don't know what to do. I just cry with her. All of us at home are watching over her. We are very sad about what is happening to us. More than anything else, we don't have the money to have her operated."
Through the support of Puente de Solidaridad, the local office of Solidarity Bridge, and with the generous support of the Goff Gift Fund, Sarahi's surgery took place on June 13th, 2014, at Clinica Belga. At the moment this story is written (June 17), Sarahí remains in the pediatric ICU for the critical post-operative care she needs to stabilize her fragile body until she is strong enough to go home with her family. Her surgeon, Dr. Brockman, is confident she will continue to evolve as hoped and should be able to return home within the next week. Thank you to all who made this surgery possible, including especially Dharma Trading Co. Sarahi is the 100th child to benefit from the life-saving solidarity of Dharma Trading and the Goff family. THANK YOU, THANK YOU, THANK YOU, FOR THE 100 MIRACLES YOU HAVE MADE POSSIBLE!.