Karen Vargas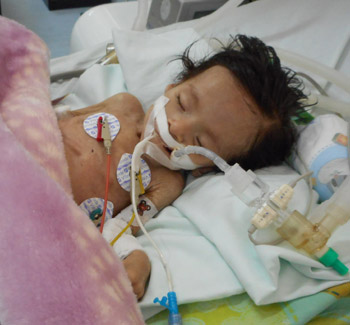 Karen is the first child of Pamela and Byron, a young couple from Santa Cruz, Bolivia. Pamela enjoyed a normal pregnancy, but as soon as her tiny daughter was born it became clear she was unwell. Within days, doctors told the family that Karen suffered two significant heart defects: a large ventricular septal defect -- a hole in the heart wall --, and a coarctation of the aortic -- a dangerous narrowing of the primary blood vessel leading from the heart.
The baby was rushed to the InCor cardiac hospital in Santa Cruz for urgent surgery to keep her alive. The baby's grandmother, who lives and works in Spain, sent all the money she could save and borrow. In the meantime, the rest of the family back in Santa Cruz organized multiple fundraisers to cover the rest. The surgery was declared successful, but doctors told Pamela and Byron that Karen needed a second operation as soon as possible, without which she was still at risk of not surviving to her first birthday. By that point, the family was heavily in debt, so the tiny infant was transferred to the public Children's Hospital. The family was also referred to Puente de Solidaridad, the local office of Solidarity Bridge, to be evaluated for eligibility for support through the Solidarity Bridge open heart program, with primary funding provided by Isaac and Renee Goff.
On November 23, 2015, surgeons at the Children's Hospital re-operated on Karen's heart to correct problems with the initial septal wall repair and to reconstruct the baby's aorta, in hopes of offering a long-term solution to her especially complex set of defects. The surgeons were also forced to perform an exploratory thoracotomy to assess lung damage which had occurred as a complication of her earlier care. Karen came through the long and delicate second surgery, and continues to be closely monitored.
Pamela expressed her gratitude toward all those who have stood by her family:
"As parents, we hold out hope that our daughter is going to come out OK. That is why we have not lost faith, especially now with your help since we no longer have economic possibilities. Thank you very much for your help, and may God bless you."