Santiago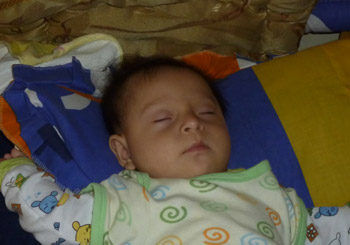 Santiago's parents were elated to have two children, a little girl and now Santiago, born 11 months ago. Hardworking and careful, the young couple had done everything right to start their family. His dad finished his degree in engineering and his parents saved for a down payment for a small home.
In an uncertain economy, challenges set in. Santiago's father found contract work but without health benefits. The baby boy, however, needed constant medical care. He had chronic colds, frequent fevers, and uncomfortable sweating. He choked when trying to swallow. Specialists diagnosed congenital heart disease with pulmonary hyperflow and several other complications. Santiago urgently needed surgery.
The family turned to Solidarity Bridge's partner, Puente de Solidaridad, for help. Within weeks, Santiago received complex surgery by a qualified heart surgeon.
Santiago's parents expressed their gratitude to all who supported this surgery. They had faced the excruciating decision of losing their home in order to save their child's life. Support from Dharma Social Projects helped to move this surgery forward quickly and successfully. Santiago can now grow up with his sister and parents in an environment where both love and health are possible.