Leonardo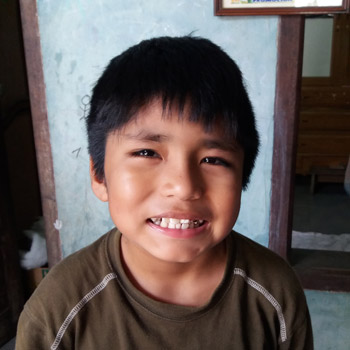 Leonardo, his parents, and younger brother occupy one bedroom in their grandmother's home. Leonardo's father, Santos, is a bricklayer, with a variable income. His mother, Mónica, travels, selling clothes. Their combined income barely covers the basic needs and educational expenses for the small family.
For several years, Leonardo suffered from the symptoms of patent ductus arteriosus. This is a heart condition in which an artery fails to close at birth, disrupting the flow of blood and oxygen from the heart to the lungs. Leonardo is able to attend school, but suffers from shortness of breath and is unable to participate in physical activities. At his annual pediatric visit, the family was informed that he would need to undergo a procedure to close the artery with an external device.
Mónica said, The cost of the procedure was very high. By God's grace, we were referred to the Solidarity Bridge Heart Program. The support was an incredible blessing. When they told me there was an institution that offered support, I felt relieved. I am infinitely grateful for the help they provided for our son. God bless you.
Solidarity Bridge extends this gratitude to Dharma Social Projects for the incredible impact this support will have in Leonardo's life.
On October 30, 2018, Dr. Hornez performed the occlusion procedure at the Incor Hospital in Santa Cruz. Leonardo was released from the hospital the following day. Santos and Mónica are hopeful that their son will have a much-improved quality of life.