Andres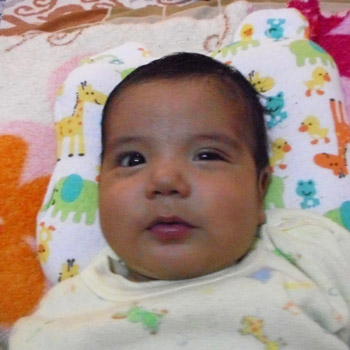 Orlando and Selva, both 32, have been married for six years. Orlando owns and drives a taxi, earning enough to care for his family and pay the monthly mortgage on their simple one-bedroom home in the town of Cotoca outside Santa Cruz, Bolivia. Orlando and Selva already had a six-year-old daughter, Luz Valeria, when their son, Andres, was form in February 2017.
Andres appeared to be a normal, healthy baby at birth. Selva later noticed that he struggled to nurse, even occasionally turning "purple," but they thought it was normal. But when Andres was three months old, he came down with a persistent and worsening cold. They rushed him to the emergency room at the Japonés Hospital, where a pediatric cardiologist discovered that Andres suffered from a constellation of heart defects that together are known as tetralogy of fallot. The baby needed emergency surgery to place a Blalock Taussig shunt as a first step among a series of surgeries needed to correct the condition.
Once he was stabilized, Andres was transferred to the Incor Hospital for the procedure, which took place on May 12. Just three days later, he was strong enough to go back home. Thanks to the quick action of the doctors and the support of the Solidarity Bridge/Puente de Solidaridad Heart Program, Andres' condition was managed in time to save his life and prevent further damage.
The family expressed their support to the social workers at Puente de Solidaridad: Thank God institutions like yours exist that can help us in these situations … muchas gracias!