David Fernandez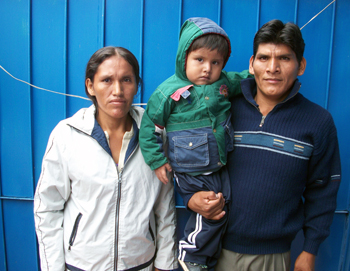 David is a 3 year old boy. He was born with a congenital problem – a hole between the ventricles of his heart. He is the youngest of 4 siblings and lives with his father, Erminio (32 years old) and his mother, Maria (34 years old) at home. His father and mother are subsistence farmers. His siblings are a 10, an 8 and a 5 year old brother.
In addition to doing subsistence farming, the family works as a guard on a property.
Their dwelling is one made of rough wood and palm branches. They do not have electricity of running water. They draw water from the nearby creek. They have no bathroom or outhouse. He earns about $90 a month.
The family was very distraught to hear about David's problem and in great distress shared the following: "We are small farmers who do not own their own land, but farm other people's land. What we farm we use to eat. Working as a guard, I earn a little, but it is not enough to save and pay for the unforeseen needs.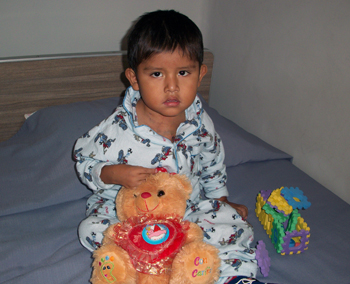 That is why we have come to you and to ask that you help save our little son's life. We are believers and ask God to help us though this situation that we are going through."
David was operated in May and is doing well. This surgery was made possible through the financial support of Dharma Trading Company. The first picture with his family is before his operation and the second, on the bed, is after. Although it was a difficult operation, David recovered quickly and should have a full life ahead of him.