Balery Rojas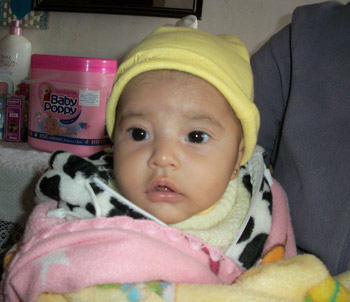 Although many of the children who benefit from the Solidarity Bridge Heart Surgery Program are school-aged, outcomes are best when congenital heart defects are detected and treatment begins as soon as possible. The case of little Balery, who was just a couple months old when first referred to a cardiac specialist, is one example. Balery is the second daughter of Milton, a construction worker, and Eloina. Thanks to her parents' quick trip to the doctor soon after they began to observe her difficulty nursing, recurring fevers, and respiratory distress, her condition was diagnosed early.
Balery was born with an acyanotic heart defect, which is when blood flows improperly from the left to the right side of the heart due to a persistent hole in the wall between the two heart ventricles. In her case, the hole was located in a subpulmonary position, and was accompanied by significant dilation of the left atrium and moderate pulmonary hypertension. Fortunately, the condition was operable. But the news that Balery needed such an expensive surgery was almost as frightening for her parents as her illness itself. In Eloina's words, as spoken to the social worker at PuenteSol, Solidarity Bridge's local office in Cochabamba:
I don't know what to do. The doctor explained that if she isn't operated she will get worse. We live on what my husband earns; we don't even have any savings. We are going to try to borrow to pay for the surgery. I am asking for your help, because it is impossible for us to pay that much money.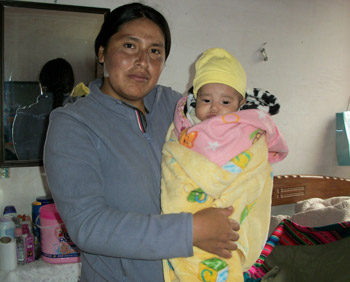 Thankfully, Balery received her surgery on July 14th, 2014, and just eight days later was discharged to continue her recovery at home. Like all the patients supported through Solidarity Bridge, Balery continues to receive the follow-up she needs as she heals. Her parents, as well as her doting older sister Veronica, are most grateful to her surgeon Dr. Carlos Brockman and his team at Clínica Belga, and for the generosity of Isaac and Rene Goff of Dharma Trading Company for helping make possible this surgery to save five-month-old Balery.