Oliver Puma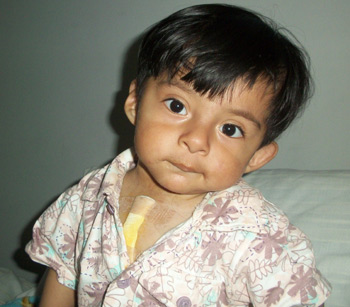 Little Oliver is the first and only child of Apolinar and Martha. The young family lives in a simple three-room home built by Apolinar, a bricklayer by trade, on an unnamed street in the south-central Bolivian city of Sucre.
Oliver was born with a relatively severe case of the most common congenital heart malformation, a ventricular septal defect (VSD). The wall between his two heart ventricles failed to close, leading to improper left-to-right blood flow, confirmed in Oliver's case by a significant heart murmur. Despite diligent 24-hour care by his mother, Oliver was a frequent visitor to the Sucre children's hospital due to nagging colds, high fevers, and general difficulties breathing, especially when nursing.
At 10 months of age, Oliver was sent to Cochabamba for corrective surgery. Unfortunately, he arrived with pneumonia. After intense medical treatment he was sent back home to regain strength. A few days shy of 12 months, Solidarity Bridge partner Dr. Erika Perez was finally able to patch Oliver's VSD with donated mesh during open heart surgery performed at El Belga Clinic. Oliver spent two more weeks in the hospital before returning to Sucre to finally celebrate his first birthday with his overjoyed parents.
The family is especially grateful to Isaac and Renee Goff and Dharma Trading Company for helping to make their son's life-changing surgery possible. As Apolinar explained to the social worker at Solidarity Bridge's Cochabamba office: "As a bricklayer, one doesn't make enough money to be able to save," and they were unable to afford surgery on their own. Now Oliver's young parents can watch their baby grow and thrive, and perhaps even plan toward adding to their small family.