Juan G.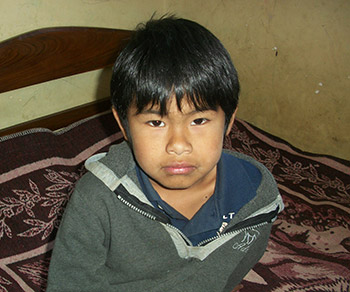 Adriana knew that her oldest son, Juan Ignacio, lived with a heart defect. Specifically, he was born with an atrial septal defect, which is an opening in the wall that separates the two upper chambers of his heart. But Adriana and Juan Ignacio's stepfather, Luis, had been unable to save up enough money to have the defect surgically repaired. Fernando works in construction, earning less than $300 a month, barely enough for food and to pay rent on the two rooms shared by his five-member family.
By the time Juan Ignacio entered third grade, it became more difficult to ignore his symptoms, which included shortness of breath and fatigue. A cardiologist who reviewed his case agreed that postponing surgery any longer would only add more health complications. The doctor referred the family to the Cochabamba office of Puente de Solidaridad, which approved Juan Ignacio for support through the Solidarity Bridge Heart Program.
On June 14, 2018, a team of two pediatric heart surgeons at Cochabamba's Belga Heart Clinic, Dr. Echazu and Dr. Navarro, implanted a tiny woven device into Juan Ignacio's heart to repair the defective tissue. Juan Ignacio bounced back quickly from surgery, and is now back at school.