Risa Puji Astuti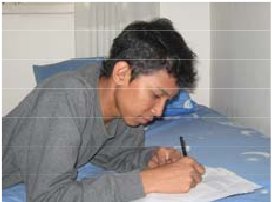 Birth: Jakarta, 19 Mei 2000
Family: Risa lives with her parents and three siblings. She is the youngest child of four siblings in the family. Her parents only graduated from elementary school. Her oldest brother already completed his study and graduated from senior high school. Her another brothers still studies at junior high school.
Education: Risa registered as student at SDN 03 Larangan Selatan. She is in 5th grade of elementary school. She is an active child and has good responsibilities in doing any task. She always makes time to study at home, about two hours a day. Her hobbies are swimming and singing.
Living Conditions/Situation:Risa's parents rent a house. The house is occupied by 6 family members. Generally, health condition of the family is good, but Risa's parents often have reumathoid and visit Public Health Center.
Economic Situation: Risa's father is a labor with income IDR800.000 (US$ 94) per month. There is no other family member except her father who makes income for the family. The family still have difficulties to fulfill the school needs.