Karmilah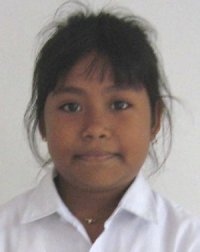 Nickname: "Karmi"
Birth: Karawang, 11/29/1999
Family: Karmi is the only daughter. Both Parents are alive and are suffering minor health problems. Father has had no education, mother some elementary school.
Education: Karmi has just completed 1st grade at a government elementary school. Her 1st semester results were good. She enjoys going to school.
Living Conditions/Situation: Parents and daughter all live together in one room with walls and roof made from zinc sheets next to the garbage tip. The rough cement floor is covered in a sheet of plastic.
Economic Situation: Both parents work as scavengers.
Additional Comments: Karmi enjoys playing with her doll. Considering her living conditions, Karmi is remarkably healthy.